Creativity by Brute Force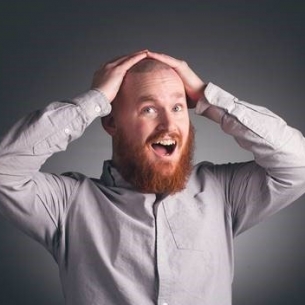 Thursday, February 20, 2020 – 11:30 AM – 1:00 PM – Fetzer Center (Western Michigan University)
It takes a second to generate a new idea, but what are you willing to grind out to execute that idea? From 50-state road trips, to pouring Richard Branson a beer, to creating Plaidurday, to photographing every sunrise of 2019, the success Bugsy's experienced has more to do with perseverance, sisu, and a little stubbornness, than it does some mysterious skill of "being creative". He believes we all have the ideas, the differentiator is, who's willing to execute them?
As the Official Unofficial Ambassador of the Upper Peninsula (still waiting on the Governor's official appointment), many of Bugsy's projects relate to the Michigan region. In this role, he offers a unique playground to launch ideas where the community is receptive and eager to participate.
His family first got dial-up internet access in 1996, where he immediately created his first website on Geocities. Bugsy's fascination with the web blossomed quickly. Ever since that day, he has used the web to launch a variety of projects and created a career for himself self as a web developer and marketer.
With a background in building websites, a degree in traditional advertising, and the rise of social media, Bugsy has carved out a niche in the center of this venn diagram.Join us on February 20th, 2020 at the Fetzer Center to hear Bugsy's story about becoming an ambassador.