How to Become a Thought Leader on LinkedIn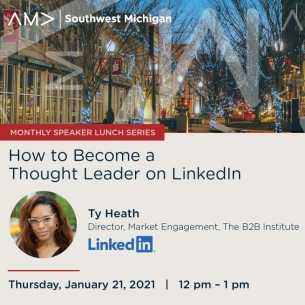 Thursday, January 21, 2021 - Noon - 1pm - ONLINE
Digital enhances the way executives engage with their audiences and express their views. Increasingly, leaders are expected to share their insights and ideas on social media making it essential to develop an effective approach.
LinkedIn is the world's largest professional network with over 706+ million members throughout the world. Top executives are participating in conversations on LinkedIn by sharing meaningful and insightful content with this community. In this session, you'll learn how to use LinkedIn to promote your ideas and perspectives to establish you as a thought leader amongst your professional network.
TY HEATH BIO
Ty is Director, Market Engagement, The B2B Institute @LinkedIn, the former President of LinkedIn's Black Inclusion Group (BIG) and Co-Founder of TransformHER. Ty is passionate about connecting people with information needed to make intelligent decisions, sharing educational content to help marketers be more productive and successful with a bit of humor. Ty teaches B2B marketing as well as leadership, diversity and inclusion and is the author of "Marketers of Tomorrow: A Step-by-Step Toolkit for Inbound Marketing."
Marketers benefit from Ty's marketing experience at Google Inc, consulting within IBM as a social business manager and leading her own B2B consulting practice, Spectacled Marketer. Ty serves on the Digital Marketing Institute's Global Advisory Council, on the Board of Directors for the American Advertising Federation and as an Adobe Insider with top executives, experts, and pioneers in technology. In her career, she has delivered marketing education to thousands.
With an MBA in Marketing and Operations Management from Emory University's Goizueta Business School and an International Economics degree from Georgetown University. Ty is also a science fiction loving, two-time Olympic Trials qualifier in track and field for the 800 meters in 2004 and 2008.