Data Builds Brands: Delivering Audiences Now, Building Brands of the Future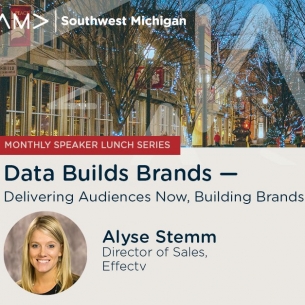 Wednesday, December 9, 2020 – 12:00 PM – 1:00 AM EST – Online
Learn about combining the targeting and measurement of digital advertising with the reach and impact of TV to deliver the results that matter.
Three key takeaways:
Media has evolved, consumers spend more than 5 hours daily with TV and digital video
Reach Matters: Building awareness with high reach campaign strategies is critical for all advertisers to drive purchases
Data is key – it's all about the audience
Alyse Stemm
Director of Sales, Effectv
Alyse Stemm is the Director of Sales for Effectv in MI/ Northern Indiana Markets. Her Primary responsibility is to collaborate with her amazing team to help small to medium sized businesses create and implement video advertising campaigns with the goal of influencing consumer purchasing decisions and helping exceed business objectives. Alyse has been in the advertising and Marketing industry for over 12 years and has a real passion for data and metrics that help business owners in our community make informed decisions to best grow their businesses. At Effectv, she has partnered with businesses and ad agencies finding and targeting specific audiences with a focus on the Auto, Healthcare, Retail and Services business.